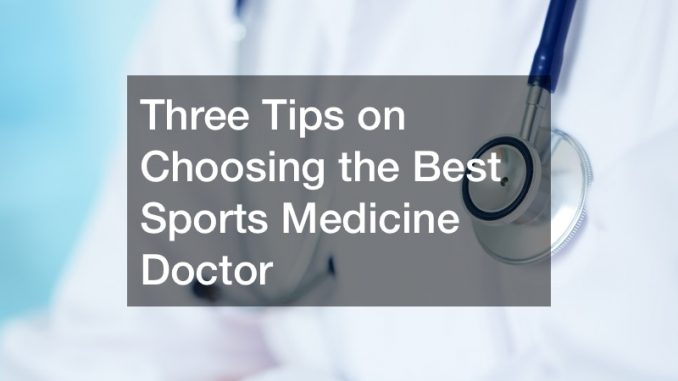 For the love of the game, players train for endless hours, have sleepless
nights, and endure the intense pressure from their adoring fans to perform exceptionally in every single match. No matter the sport, be it basketball, tennis, football, swimming, cycling, or Formula One racing, professional players are not only given the name athletes because they play a sport, but because of top-tier form, they are always in from their dedicated training. Unfortunately, such praised training and years of competitive sports can bring about injuries. This article is here to go give you tips on finding the best treatment for athletic injuries at reputable medicine doctors and sports medicine facilities for when injuries come along.
When visiting a sports injury orthopedic or sports medicine facility, not only must you look at their experience, but their qualifications. Like bachelor of science in sports medicine, and also their area of expertise must match the type of injury injured. Take a look at their reviews and verify that they do their job exceptionally well. Search online for "orthopedics and sports medicine near me" or and apply the following tips so that you enjoy the best of medicine doctors that there are.
For most athletes, injuries are their biggest concern. Sports can be extremely exhilarating, gratifying, and healthy for you, but they can also be a source of severe injury.
For pitchers in baseball, arthroscopic shoulder surgery is fairly common, while soccer players sometimes face posterior cruciate ligament reconstruction, and basketball players often deal with recovery from arthroscopic knee surgery.
But for all athletes, a critical component of the healing process is a sports medicine clinic. These clinics are staffed with sports medicine doctors who have been trained to handle various injuries.
Here's how to pick the best sports physician.
Experience. To receive quality care, it is critical for patients to seek out sports medicine doctors who are both well-trained, and experienced. This means that they have several years of practice under their belts, and that they have worked with a number of injuries. At least 10 years of experience will ensure patients that the doctor has treated a variety of cases successfully.
Connections. The types of patients a physician has seen before will also be a good indicator of his or her credibility. Many sports medicine doctors work with athletes, from high school, to college, to the professional level. Finding a physician that has handled all of these types of athletes will be a major plus.
Recommendations. By asking friends or relatives, patients may be able to locate a high quality sports physician faster than reading online reviews. This will give them an honest opinion about the doctor's demeanor, expertise, and pricing. This will also help narrow down the list to just a handful to choose from.
At any sports medicine clinic, there many be several physicians on staff. By using these tips, you could be on your way to getting the best treatment possible. This is a great source for more.