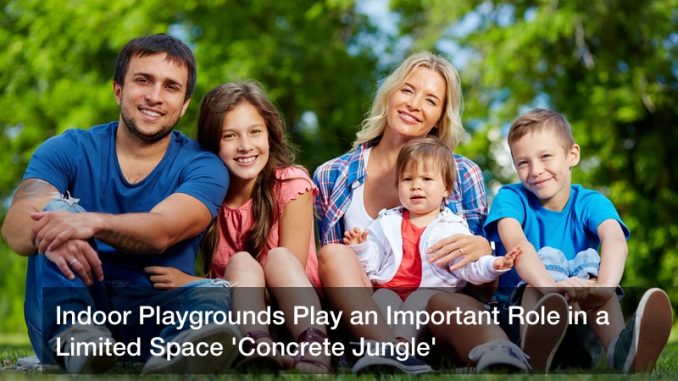 Indoor playgrounds, vital meet-and play-centers for children specifically designed to offer ultimate fun with interesting, custom-themed environments and indoor soft play equipment.

Indoor Playground for Children Active Lifestyle
The idea began in the US back in the 1990s and it's popularity across the world only made the industry bigger and more advanced soft play structure being introduced for tremendous fun. Initially, the first indoor playgrounds only featured simple indoor climbing frames with fewer intrigues and challenges for children.

Today, the indoor play structures are complex and feature several play areas according to suitable age groups, such as a mini rock climbing wall, trampoline, soft play structures, building blocks, electronic play toys, a ropes course, and a space dedicated to toddlers.

Mainly, kids' indoor play structures are padded in a soft tuffskin foam post pads and vinyl padded platforms to protect children from impact when they fall and bounce around. In terms of safety, the indoor playground is considered safest compared to the outdoor playground.

Commercial and residential indoor playgrounds can vary largely when it comes to the play features and size. A toddler-designed indoor playground may be small and not as complex as a large themed indoor play structure that commonly seen in children's amusement parks and family entertainment centers.

Soft Play Equipment
An indoor playground structure features steel frames and is equipped with multiple playsets such as slides, ladders, holes, and other themed play areas. The good thing about soft play equipment is that it can be customized to fit any size and theme of the indoor play center you're looking to achieve. You can choose from a range of soft play structures and create a perfect and safe space where children can happily enjoy themselves.

Ball Pits fir Kids
Ball pit is simply a fenced soft padded 'pit' full of colorful balls and other inflatable toys. It's a popular addition to an indoor playground as it offers more game options for children. Also, ball pits are absolutely safe than most indoor playground equipment, thanks to inflatable and flexible play toys such as a ball that easily bends when and has no impact when kids throw at each other. Jump in and play with your kid for increased interaction and fun-family time.

Toddler Indoor Playground
A complete indoor playground should have a designated section for toddlers. This part can are often filled with plenty of visual and interesting toys that can easily excite and entertain young children, such as soft play structures, toys, playhouses, and inflatable ball pools. It's proven that kids between 1-3 years develop most of their skills when engaging in interesting and active games.

Kids Furniture
Other interesting additional playground kits are kids' furniture and home accessories such as dollhouses, plastic beds, and cartoon cabinets among others. These playground accessories are designed to help kids develop their motor and critical thinking skills and are available in various kinds and styles for more custom theme playgrounds.

There are quite a number of custom options and indoor playground structures to create a perfect and ideal space for children to express while enjoying an active lifestyle.