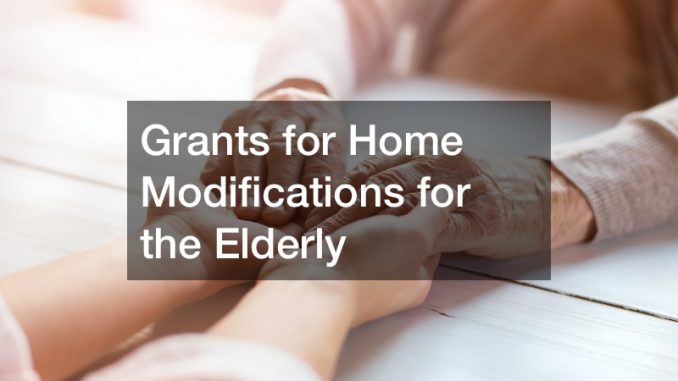 As we age, it is natural to want to keep living independently for as long as we can, and for millions of Americans, that is possible. That is possible because there are many organizations and government agencies that offer grants for home modifications for the elderly. These are grants that do not have to be repaid and are offered after an application process. Every grant has its own eligibility criteria. There are many kinds of grants for home modifications for the elderly. Use this guide to learn more about the most common grants available if you or someone you love needs modifications in the home.
Types of Home Modifications
From wheelchair ramps to climate control, there are many modifications that the elderly will need for their home. Each human is different, and so every home modification plan or need will be different as well. This is a starting list of the most common types of home modifications:
• Remodeled floor plans for one-floor apartments
• Climate adjustments and control
• Computer adjustments, including larger monitors and keyboards
• Fixture adjustments, such as large light switches
• Bathroom and hallway grab bars and rails
• Rolling, gliding, sliding shelves
• Push-buttons for automated doors
• Security, indoor and outdoor
• Flooring, removing carpet, and switching to smoother surfaces to accommodate walkers and wheelchairs
• Software
• Lifts
• Non-skid strips
• Shower tubs, chairs, and benches, or bath and shower modifications
• Weatherization
• Ramps for wheelchairs
• Door and hall modifications
• Garage door adjustments
If the home has elderly home care services, there may be more modifications needed, such as building an apartment or guest room for home care.
When you get grants for home modifications, most of the time you get to choose what contractors work with you. After grant funds arrive, you may choose your own garage door companies for example, or hire your own cleaning service.
There are different funds for different needs and eligibility criteria.
Medicare Benefits for Home
When it comes to financial assistance for home modifications, there are some Medicare options. Original Medicare is not one of them. You may be able to get some modification resources when they are prescribed by a doctor, such as an assistive technology device. Medicare Part B also offers the opportunity for a specialist to come in and assess your home for needs.
There are also some options for Medicare. Some rehab and physical therapy services are covered, along with other forms of therapy. For the home, some options exist where you may be able to get stairlifts and walk-in tubs, but most home modifications are not covered.
Medicare Advantage on the other hand has some alternatives. Medicare Part C offers benefits beyond Original Medicare that are called supplemental health benefits that can include home modifications.
Veterans Programs
There are a number of programs available for veterans that offer grants for home modifications for the elderly. They include SAH Grants, HISA Grants, and SHA Grants.
SAH Grants and SHA Grants
The SAH Grant is a Specially Adapted Housing Grant that offers service members funds for the purchase or modification of an adapted home. You must have a permanent service-connected disability.
The SHA Grant, the Special Housing Adaptation Grant allows for funds for veterans with service-connected disabilities to modify their homes. In order to qualify, you must have a permanent home that they own or is owned by a family member. The home does not need a VA loan in order to qualify. You must have a permanent and total disability that is service-connected, and you need to show that your home improvements can meet SHA guidelines.
That can include sliding doors, bars and handrails, and even a swimming pool if you have a prescription for hydrotherapy. Also included in the SHA Grant are modifications to floors and walkways. They won't cover retirement living or a kitchen contractor, or aesthetic upgrades that won't assist your independent living.
HISA
A HISA Grant is a Home Improvement and Structural Alteration (HISA) grant that allows for improvements or alterations to your primary residence. The alterations can include entranceway changes, bathroom modifications, driveway modifications, and plumbing and electrical changes. It does not provide funds for modifications to exterior buildings, spas or jacuzzis, decks, or any new construction. These are not just grants for home modifications for the elderly, but for all veterans.
More information on these grants can be found at va.gov.
Rebuilding Together
There are three programs offered by non-profit organizations that fall under an umbrella called Rebuilding Together that offer grants for home modifications for the elderly. These programs can help you maintain your homes, such as through a healthcare cleaning service, or fund modifications. Each program is different. These are called Safe at Home, Heroes at Home, and Rebuilding Together. They are all grants for home modifications for the elderly that offer grants for a breadth of modifications.
Some of these programs can fund custom construction services from home builders but are geared towards low-income elderly and their families that are homeowners. If you need to maintain livable conditions in your home or have disabilities that need standard home modifications, you may be able to get some funding here.
Standard home modifications include ramps, bathroom rails and modifications, garbage removal, and even smoke detectors if you need help with that.
Heroes for Home is designed for veterans and their families and provides funding for home construction such as ramps and bathroom remodels. Kitchens and hallways can also be improved through this funding.
There are Rebuilding Together chapters in every state. The best way to access these grants for home modifications for the elderly is to apply through your local state chapter.
Low Income Home Energy Assistance Program (LIHEAP)
This program is not specified for the provision of grants for home modifications for the elderly, but it is specified as a grant program for low-income families. The elderly can apply for these funds. The funds available here are for heating and cooling, energy assistance or energy-related home repairs, and weatherization. It can also help you pay for your electric bills.
The primary eligibility for this is that you need financial assistance for energy-related expenses. There are LIHEAP offices in every state that can give you more information to apply. You can also find information on the U.S. Department of Health and Human Services website.
Weatherization Assistance Program
The Weatherization Assistance Program (WAP) provides funding for you to update your home to become more energy-efficient, or, weatherized. These funds are administered both locally and at the state level. You can apply through your local weatherization agency.
These are not specified as grants for home modifications for the elderly, and eligibility is determined by income. The household income must fall below 200 percent of the poverty income guidelines to be eligible. Families on Supplemental Security Income or Aid to Families with Dependent Children can also apply. You can use the LIHEAP eligibility criteria to apply.
This funding is available to anyone that is eligible, but priority will be given to those 60 and above, or families that have more than one disability in the home. Families with children and those with high energy consumption will also be given priority.
With this funding, you are given a list of providers for weatherization services, although it may depend on your state. You may get an online application from the website, however, you will still need to connect with a local provider or contractor. Once you have found your local provider, touch base with them and begin the application. They will ask for your proof of income, which can be pay stubs or receipts of social security payments. The provider will determine your eligibility. The families with the most need will be given priority.
If you are a renter, you must get permission from your landlord in order for construction to occur on your property. Your local weatherization provider may ask for proof of this permission. If you are able to get an email or written notice from them that it is okay, that will probably be enough.
Rural, Repair, and Rehabilitation Grants/Section 504 Home Repair Program
This is also called the Section 504 Home Repair program, or the Very Low-Income Housing Repair Program. This program is another one of the grants for home modifications for the elderly that extends to low-income homeowners. The funds can be used for the repair, improvement, or modification of homes to rural owners. Modifications can include safety and the removal of any hazards to the elderly.
There are a lot of modifications that can be eligible, including bath remodels, wheelchair ramps, and doorway and hallway widening. In this program, both loans and grants are available, and grants are given to those that are unable to pay the loan. You might at first get a loan, and then be awarded a partial grant down the road.
To qualify, you must be over the age of 18, and a legal or permanent United States resident or citizen. To be eligible for the grant portion of these funds, you must be over the age of 62. You must also live in a rural area, which is defined as an area having a population of fewer than 10,000 people. To see if your area is eligible or a designated rural area, visit the USDA Income and Property Eligibility Site.
There are income caps to this program. You must be able to show that you can't get loans from other organizations. That is usually defined as an income less than 50 percent of the median income for the region you are in. Your non-retirement assets also have a limit. You have a limit to liquidate up to $15,000 for homes where there are no elderly, or $20,000 for homes where there are elderly, or an elderly person.
If you have more non-retirement assets, you are allowed to liquidate as much as you want. Anything that you liquidate over that amount will be taken off of whatever grant funds you would be eligible for. The cap for the USDA Rural Development Grant is $7,500 for the lifetime. It can only be used for repair or health and safety improvements. If you sell the home within three years of receiving the funds, the grant total may be taken from the proceeds of the sale of your home.
Loans are also available through this program, with a cap of $20,000 and a term of 20 years. The interest rate on these loans is fixed at 1 percent. It is possible to receive both a loan and a grant through this program, to receive a total of $27,500 for a lifetime.
To apply for these loans and grants for home modifications for the elderly, visit your local USDA Service Center.
State-Based Programs for Home Modifications
At least half of all the states have funding programs referred to as nursing home diversion programs. The goal here is to keep the elderly at home. These will provide grants for home modifications for the elderly and the disabled to prevent them from institutionalization that isn't necessary. It also helps them to pay for environmental accessibility adaptations and in some cases, assistive technology.
The modifications provided by state-based programs are standard modifications, and include the following:
• Wheelchair ramps
• Stair-lifts
• Doorway and hallway widening
• Kitchen remodels for modifications
Every state is different, and will sometimes combine both loans and grants.
The eligibility for these programs will vary by state. In most cases, you will need to be elderly or disabled, living in your home, renting your own home, or living with a caregiver. If you already live in an assisted living facility or nursing home you would not be eligible. These programs are usually income specific as well, and each state varies.
Your income will need to be within a certain limit, and may include all of your resources that are referred to as your 'countable assets.' Check with your state's Home and Community-Based Services (HCBS) to learn more about how you can apply for these programs.
Research Grants for Home Modifications for the Elderly Today
If you need home modifications, don't wait to start the research. Each program will have different waiting periods and different eligibility requirements. For those on Social Security, contingency-based disability lawyers may be able to help you gather the paperwork you need to prove eligibility. If you qualify, it is unlikely you need to go that route, unless you already have an attorney. What is clear from this guide is that in every state, there are options for grants for home modifications for you in almost every scenario. Begin researching those options today.