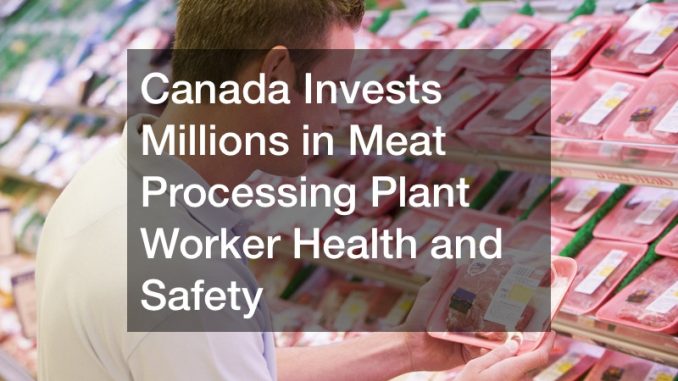 When food processing businesses adhere to food safety regulations, they aid in the reduction of the spread of food-borne diseases. This can yield several economic and social benefits such as reducing the loss of income and the health care costs of their employees. As a result, productivity levels increase despite the unpredictable effects of the pandemic. The surge of the COVID-19 virus and the inconclusive nature of how it spreads has raised concerns about the safety measures that businesses have in place. This has forced many businesses, particularly plant meat processing facilities, to review their safety measures in food processing practices.
In most countries, such as Canada, the government has intervened to provide emergency funds that are aimed towards aiding the food processing industry. These funds are used to provide these facilities with the essential resources to ensure the safety of their workers. This includes providing alternatives to conventional work conditions and incorporating methods that are not popular in this industry. But how can food processing businesses adhere to food safety standards during a pandemic?
In this article, we will discuss ways to ensure food safety, how countries like Canada are keeping their workers safe, and give you tips on how to keep your manufacturing and plant workers virus-free. Keep on reading to find out more.
How to Ensure Food Safety
Businesses need to consider many factors that are essential to upholding safety measures in food processing. Food safety standards and regulations are a practical and tested approach that help to prevent outbreaks of dangerous food-borne diseases such as E.coli and Salmonella. If you are having trouble with determining the critical areas of focus that will apply to the safety measures in food processing for your business, you can use the following list for assistance.
The Location
When you apply safety measures in food processing, you need to take the location and design of the food processing facility into consideration. You will need to evaluate which areas are prone to higher levels of pollution and avoid them because they increase the probability of contamination. The materials that are used in the building process of your facility are also a key component. They need to be well insulated and durable to prevent leaks and cracks that can increase the chances of pollutants entering your facility.
Machinery and Production Line Design
The layout of the machinery and production line design should allow easy access for regular cleaning and maintenance. This will lessen the risk of contamination that is susceptible to the food products as well as the stored ingredients. Measures such as the quality design of machinery need to be considered. There are food processing regulations that address how the design of the food processing machines should adhere to food safety regulations.
A poor design can affect storage and cause a build-up in food particles in hidden spaces that are difficult to clean. There are different pieces of legislation that the law enforces for the regulation of machinery design. For instance, Canada's reference standard for machine safety is the Technical Norm Z432-04. This standard promotes a high standard of machinery safety and specifies the safety requirements of a machine design.
Pest Control
This area plays a significant role in addressing safety measures in food processing. There is an array of insects that can spread food-borne diseases, and they can cause contamination at any stage of the food production process. Moreover, some rodents have the potential to cause damage to buildings and machinery. Investing in a pest control company that can monitor and detect any pests and prevent them from entering the food processing facility is important. It will assist in the compliance of food safety during the food production process.
Cleaning and Waste Management
You need to establish cleaning and disinfecting procedures that meet the prescribed hygiene standards. There should be appropriate containers and designated waste storage areas. Regular cleaning and effective waste management help to prevent the buildup of waste and reduce the risk of contamination.
Other areas of focus include regular maintenance of the facility, machinery, and environmental hygiene. To ensure that the results are obtained and that employees adhere to the safety standards and regulations. Educating your food processing staff and support staff is mandatory to effectively apply safety measures in food processing practices.
How Canada Is Keeping Meat Plant Workers Safe
The Canadian government has announced that it will be investing a sum of C$7.8 million in its efforts to ensure safety measures in food processing. This is a result of concerns about how the COVID-19 requires measures focused on food processing practices to meet the demands of consumers. The Emergency Processing Fund will help to support approximately 24 meat companies that process meat across the Prairies. This funding aims to help these businesses to keep their employees safe and maintain a robust balance in the regional food supply chain industry.
The fund recipients can necessitate appropriate adjustments that are aimed at ensuring social distancing, purchase personal protective equipment that can be reused, improve and maintain food processing plant sanitization programs, develop training strategies for employees and install protective barriers in the facility. This emergency fund will also help the businesses to upgrade their facilities to ensure that the food supply in Canada can support the strong demand for high-quality produce.
The World Health Organization has published a list of food handling practices that a business can incorporate into its project management process. These include the rigorous use of PPE, the types of soap that can be incorporated into sanitation programs and practices aimed at the prevention of food-borne pest-carrying diseases that can increase the risk of contamination. The following are key principles that ensure exceptional hygiene standards for a food processing facility or a restaurant.
It is crucial to keep your kitchen, countertops, hands, and utensils spotless at all times.
Raw food and cooked food such as raw meat and fresh produce need to be stored separately. This will prevent cross-contamination that is a potential health hazard.
Ensure that your food storage appliances can keep the food at safe temperatures.
The building materials need to be regularly maintained. This will help to monitor any damage that can cause unexpected leaks that can affect the health of the environment.
Ultimately, failure to enforce the practices aimed at ensuring safety measures in food processing facilities can result in the plant workers' compromised health management. There have been several major meat plants that have had to close down operations due to the increase in workers that have fallen ill. The plants are crowded and this has raised concerns globally about how effective the measures that were in place before the pandemic.
As a meat plant processing business owner, understanding the safety measures in food processing is essential. Failure to comply with food safety laws not only jeopardizes the health of the workers, but it risks being fined, prosecuted, and having your plant closed down. If you do not have the resources to provide the appropriate adjustments to your facility, you can use the fund to provide your workers with a suitable facility.
Tips to Keep Manufacturing and Processing Plant Workers Virus-Free
When you fail to provide your workers with a safe working environment, it affects productivity and revenue. The safety of your workers should always be at the forefront of your mind. The global pandemic has disrupted many industries and forced businesses to review their general health guidelines. To ensure that you meet the safety measures in food processing to benefit your workers, listed below are tips that you can incorporate into your company's health regulations.
Identify High-Risk Employees
The Covid virus disproportionately affects the health of some groups, for instance, those that have preexisting conditions and the elderly are at higher risk. It is important to identify workers that are in greater danger of contracting the virus. If operations can continue unaffected by isolating these workers, then encourage them to stay at home.
Enforce Social Distancing Measures
There are social distancing measures in every country. Efforts should be put in place to enforce these guidelines, such as maintaining a six-foot distance between workers. Limit occupancy by creating specific lanes so that your workers reduce interaction.
Introduce Working Remotely
If certain workers can transition to working from home, then you can ask some of your employees to work from home. If employees cannot afford to work remotely, you can restrict access to the plant facility. Automated security gates can be installed to limit the number of workers who have access to the facility. Ultimately, this will decrease the number of workers who are affected and protect high-risk workers.
Use PPE
Management in the manufacturing industry has to issue out personal protective equipment as a standard practice. Face masks can be used with medical equipment and gloves can be used to decrease the risk of spreading the virus.
Consider Automation
When you decrease the number of workers by encouraging them to work remotely, your operation can suffer and not meet the demands of meat production. Automation can help to alleviate the productivity issues that will arise. Mobile robots are a valuable solution to fill the gaps left by your workers.
Clean Regularly
Provide workers with sanitizing equipment to use at their stations at the end of each shift. Do training sessions on the meat plant cleanliness guidelines provided by law.
Maintain Transparent Communication
The most critical aspect of keeping your workers safe is honest communication. Update your workers about any new guidelines and regulations as soon as they come out. Inform them about any developments on the virus to keep them alert about their potential health risk. When you communicate frequently and efficiently, you improve morale and enforce crucial practices. Having someone in an authoritative position as a source of information can provide relief to workers.
Failure to Comply with Food Safety Measures
Each year, there are millions of people who get severely sick from contaminated food. The Canadian Institute of Food Safety reports that food processing companies are behind the majority of the worst cases of outbreaks of food-borne illnesses. Preventing a food safety incident is prudent, and it saves your business from far-reaching consequences. The risks of a food safety issue include food poisoning and allergic reactions. Moreover, the costs of violations vary according to how significant they are. They can result in the closure of your business and at times legal and financial liability.
Workplace safety laws provide insurance for workers by promoting safer work environments. The health conditions of the environment that workers are exposed to can affect the involvement of a workplace injury lawyer. Countries have legislation and federal statutes that govern workers' compensation laws. These laws allow workers to file for competition without initiating legal proceedings against the business. However, workers compensation attorneys can represent the workers to help them to navigate the claims process so that they can obtain their benefits. Employers who contravene legal perimeters to keep their workers safe will be subjected to legal action.
The Bottom Line
Food safety measures are essential to ensure that businesses meet the demands of their consumers. Food processing facilities need to adhere to the strict regulations that have been reviewed due to the pandemic. Effective measures such as social distancing, the rigorous use of a face mask, and consistent sanitizing are essential. However, for businesses to succeed I'm curtailing the effects of the pandemic, government intervention is a necessity. It will ensure that businesses meet the demand and that they save costs for remodeling their facilities according to updated safety measures.
The safety of workers is an imperative factor towards reducing the effects of the pandemic. Investing in your workers will also improve their loyalty which will translate into their productivity levels. When businesses fail to comply with regulations, they risk fines and compensation settlements that could result in their operations closing down. Hygiene and regulations must operate as a single body function to achieve the intended results and meet the food supply-demand.