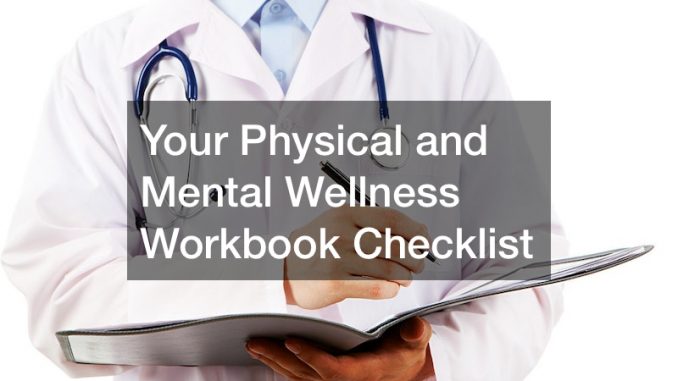 A wellness workbook is a great tool to use to keep yourself on track with your physical and mental health. Planning to be well is easier when you have a way to track your wellness. A wellness workbook can record all the steps you are taking to stay both physically and mentally healthy. You should include a few things in your wellness workbook to help keep you on track.
Make Sure You Have a Solid Retirement Plan
Worrying about the future can cause unnecessary stress. Being overstressed is bad for both your mental health and physical health. Your wellness workbook should include retirement planning information that you can refer to. Knowing you have a future plan will help keep your stress level down.
Your retirement plan must cover things like finances, health care planning, and other facets of retirement that will affect you. A strong retirement plan will ensure that now and in the future, you have a lot less to worry about. Planning for retirement can reduce stress and keep you on track with your physical and mental health goals.
When you have a plan for your future, it promotes staying on track with your health and wellness goals because you have something to look forward to. Of course, planning for your retirement is also important to ensure that you can live the life that you want when you do retire. Include your retirement plans in your wellness workbook and revisit the plan often to make changes as needed.
Purchase a Good Quality Mattress for Your Sleep Health
Part of your wellness workbook should be dedicated to sleep health. Recording the amount of sleep you get every day, and the quality of your sleep can help you recognize when it is time to invest in a high end mattress. Sleep health is very important to both physical health and mental health. Getting enough rest ensures your body can fight off disease and your mind remains calm.
According to the experts, you should replace your mattress at least every eight years. Investing in a high-quality mattress to improve sleep health can positively impact your overall health. While you sleep, your immune system gets busy repairing your body. Muscle and tissue repair takes place while you sleep
Sleep promotes other areas of wellness, including cardiovascular health, mood regulation, weight management, and cognitive function. Getting a good night of high-quality sleep is essential. Add a section to your wellness workbook to record your sleep habits and make improvements when necessary.
Schedule Routine Mental Health Appointments
To stay on top of your mental health, your wellness workbook can be used to track changes and monitor your mental health. Mental health "check-ins" can help you to notice early on when there are changes to your mental health. Telehealth counseling services are a good way to keep up with your mental health. Early interventions for mental health conditions are highly effective.
You must take your mental health as seriously as you take your physical health. Checking in occasionally with a mental health specialist via telehealth couldn't be any easier. If you struggle with anxiety, depression, or working through trauma, a mental health specialist can help you to heal and live your life to the fullest.
Wellness doesn't only point to being physically well. True wellness means that you are physically and mentally well and fully able to enjoy life. Your wellness workbook should include a section to track your mental health and keep a record of any treatments, including what has worked in the past and what you would like to try.
Call an Injury Professional During Emergency Situations
Your wellness workbook should have a section that records any injuries you have sustained and the types of treatments you have had for those injuries. Keeping a comprehensive record of the injuries and treatments can help you in the future. Even minor injuries like sprains should be recorded to track the healing progress.
Of course, in the case of an injury due to an accident or neglect, you should always contact a seasoned personal injury attorney. Managing an injury claim on your own can be overwhelming. You want to be able to focus your energy on healing. An attorney can navigate the claim for you and ensure you get the medical care and compensation you deserve.
Protecting your mental health after an accident injury is essential to healing. An attorney can handle the legal part, so you are not burdened with paperwork and worry. A personal injury may set you back a bit on your wellness path, but the right support can help. Having a professional in your corner while you deal with the aftermath of a personal injury is the best way to deal with the situation.
Ensure That You Routinely Visit Your Dentist
Good oral health is important to overall health and wellness. Painful dental disease should be avoided at all costs. Your wellness workbook should have a section devoted to tracking your oral health with reminders to make an appointment at the general dentist office. A general dentist is a dentist who can help you manage your oral health.
According to the American Dental Association, adults with good oral health should see the dentist semi-annually for a checkup and a professional cleaning. However, you should make an appointment soon if you have dental concerns. Additionally, if you need dental work, you may have to see the dentist more frequently.
Regular dental checkups are essential because regular exams can reveal potential problems that must be addressed. Of course, regular checkups with the dentist are also a form of preventative health care. Dental disease has been associated with an increased likelihood of cardiovascular disease, infection, and other health concerns. Take care of your teeth to stay well.
Inquire About the Need for Various Surgeries
Your wellness workbook should come with you to every medical appointment so you can take notes and reflect on them when you are in a quiet space. Far too often people will make decisions about surgery and other healthcare without fully reflecting on the information they discussed with the provider. You must consider all the information before you decide on surgery.
For example, your dentist may recommend oral surgery to manage a diseased tooth, but another option was also discussed. In the moment, it can be overwhelming to mine through all the information. If you have your wellness workbook with you, you can jot down bullet points of what was shared during the consult.
Using the information that you jotted down can help you make an informed decision and feel more confident about having the surgery. You may even consider an alternative method if you have all the information laid out in front of you. The point is when you inquire about surgeries, there is much information to collect. It will be best if you take notes and ask plenty of questions to ensure that you make an informed decision.
Speak About Digestive Concerns with a Medical Professional
Gut health is thought to affect every other system in the body. Your wellness workbook should have a large section devoted to digestive health. Digestive health and diet go hand in hand. What you eat, when you eat, and how much you eat all affect your digestive health. Digestive health is essential to your wellness and how you feel.
If you suspect that your digestive health is not where it should be, there are diagnostic tools that can help identify the problem. An endoscopy center can help to identify any digestive problems. An endoscopy is a procedure that uses a tool to investigate your digestive tract. The procedure occurs under general anesthesia to ensure your comfort.
The doctor will evaluate the test results and be able to come up with a treatment plan. Investing in your digestive health will pay off. It can be very difficult to focus on other areas of your wellness journey when you have problems with your digestion. Once you get your digestive issues taken care of, you can focus on other areas of your wellness journey.
Check Your HVAC System To Avoid Weather-Related Medical Problems
Part of living with wellness in mind is creating a healthy environment to live in. HVAC services can help you to keep your environment healthy. HVAC does more than cool and heat your home; it plays an important role in keeping indoor air healthy and pollutants-free. Jot down in your wellness workbook if you have had any changes in allergy tolerance while at home.
If you notice an uptick in the stuffy nose, sneezing, or itchy eyes while indoors, you should have your HVAC system cleaned and serviced. Of course, it is essential that your HVAC system is reliable year-round to avoid illnesses that can be brought on by exposure to cold and heat. Heat injuries can be very serious, as can cold injuries.
Creating a healthy environment in your home will help you achieve the level of wellness that you are trying to achieve. Change the filters on your HVAC system regularly and ensure you get the professional maintenance your system needs to stay reliable. Making sure your HVAC system is cared for will reduce stress and worry. It is hard to beat a perfectly climate-controlled home for peace of mind.
Invest in a Hot Tub for Your Muscle Health
When you are reviewing your wellness workbook and you are thinking about ways to promote wellness in your life, a hot tub company may not jump to mind, but it should. A hot tub is a great thing to have to calm strained muscles and relax. A nice long soak at the end of the day can help to loosen tired muscles and help worries to wash away.
There is evidence that soaking in a hot tub can reduce inflammation. It can also help to calm and soothe nerves. A hot tub is a great natural wellness tool that can easily improve your physical and mental health. Home should be an oasis of relaxation; a hot tub can help you create that oasis.
Hot tubs can be used year-round. They are available in a wide range of sizes and shapes. They are available at different price points to help them fit into any budget. Working with a hot tub dealer to find the perfect hot tub for your home is an investment you will not regret. It will add value to your home and your lifestyle, and help keep you on the path to wellness.
Buy Plants That Benefit Your Mental and Physical Well-Being
The best florists have a wide range of plants for sale that can benefit your physical and mental health. Plants have healing properties. They make us feel more connected to the earth. They are lovely to look at, a delight to smell, and can easily brighten your mood. Your wellness workbook should include a section on the simple things that bring you joy.
Many plants have healing properties that have been used throughout time to cure things like stomach upset, lower blood pressure, treat wounds, treat mood disorders, and more. Many people prefer to use natural plant medicine for minor ailments. It may be something that can help you. You don't need a reason to buy plants other than they bring you joy.
Buying plants can be a part of your self-care routine if they make you happy. Don't wait for a special occasion to buy plants, buy plants anytime you need a little pick me up. It will put a smile on your face and lift you every time you see the plants.
Wellness is not something that just happens, it is something that you must plan for. A wellness workbook is a great place to start. Put together a wellness workbook and follow these tips, and you will be on the path to living the life you hope for.