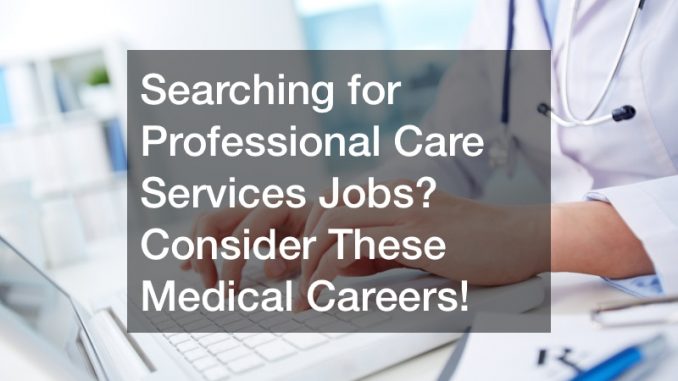 If you possess a genuine desire to help those in need, especially in the medical field, you can pick a career from a plethora of professional care services jobs that are available. Healthcare involves a multitude of different professions, and this article explores job options you can undertake to make a significant difference in people's lives.
If you've just finished high school, or want a career change, you have an important choice to make if you want to not only guarantees job security but do something that will make a positive impact in the community.
Shadowing different professionals or volunteering in healthcare facilities allows you to explore different medical fields and specialties, giving you valuable insights into those areas. This will help you decide which professional care services jobs align with your interests and what to pursue.
The level of education and training required depends on the occupation you pick. A spinal surgeon would require many years of study and training, whereas a home care administrator may require a bachelor's degree and knowledge of homecare regulations. Whatever role you choose, you'll still contribute to improving the lives of several people.
Providing medical supplies such as devices, equipment, and instruments to enable healthcare personnel to diagnose, treat, and care for affected individuals is a key role in the healthcare field.
You can supply personal protective equipment, which includes items like gloves and facemasks. You can provide diagnostic equipment such as thermometers and stethoscopes, surgical equipment like operating instruments, and electronic equipment such as pacemakers. Some individuals require durable equipment, such as wheelchairs and canes. Identify a niche market and provide equipment to labs, clinics, hospitals, nursing homes, or emergency medical services.
There are roles within a healthcare facility such as supply chain managers, and quality control experts. They collaborate with suppliers and various departments within the facility and manage inventory. This ensures that there is no shortage of crucial and life-saving equipment. Medical device sales representatives of supply companies promote and sell equipment to healthcare facilities.
Whether you're a supplier, manager, or sales representative, you play an important part in helping to save lives.
Healthcare staffing includes individuals that often work behind the scenes in healthcare institutions to provide care for patients and support to the medic in charge. Professional care services jobs include nurses, technicians, and therapists, among many others. Nurses provide patient care, monitor the patient's vital signs, dress wounds, and assist with daily tasks. Lab technicians analyze patients' samples and interpret findings. Technicians in departments such as radiology operate imaging equipment and aid the radiologist.
Therapists, such as physical or occupational, work closely with their patients and assist them in recovering from injuries or disabilities. Pharmacists form part of healthcare staffing and dispense medication, answer patient queries, and ensure safe medication usage. Some medical assistants record the patient's history and vital signs, collect specimens, and prepare them for any tests or procedures.
These are just a handful of the numerous specialists who play an important role in this large sector of healing and health.
Pediatrics
Pediatricians have a central role in a family when it comes to treating babies, young children, and teens. They monitor and assess a little one's development and growth. Pediatricians also diagnose and treat various childhood diseases and chronic illnesses.
They're responsible for advising parents on the different vaccines available and providing immunization as per the schedule. Parents are guided on nutrition and child wellness. Pediatricians also address behavioral concerns, closely monitor the child's milestones, and provide intervention where necessary.
To become a pediatrician, you must obtain a bachelor's degree, finish medical school, and complete a residency in pediatrics. You can specialize further in the field. You must also apply for a medical license.
Pediatricians are important people in a child's life when it comes to contributing to their overall health and well-being.
Homecare Solutions
On the flip side, there are elderly folk or chronically ill people who require home care solutions. These are people who prefer to have such services in the comfort and familiarity of their own homes and the company of their loved ones. Those who are recovering from surgery or accidents would also require such services as they recover and gain strength.
Caregivers are people who are trained to provide personal assistance in daily tasks such as bathing, dressing, assisting with medication, and also providing companionship. They can help with shopping and cooking nutritious meals and running errands. Home care solutions are customized to meet the needs of the individual in question.
A caregiver training program includes personal care, first aid, communication, and interpersonal skills. Professional care services jobs in this field also include registered nurses, physical therapists, speech therapists, and home care administrators.
This is an alternative to assisted living facilities or nursing homes, where the person resides in these facilities and gets round-the-clock care.
Alzheimer's affects a person's memory and thinking, which in turn affects how they behave. This is a progressive condition that doesn't have a cure, but there are medications to help manage its symptoms and slow its progress.
Aside from giving medication, a caregiver specialized in handling Alzheimer's patients engages them in games and activities that stimulate the brain. These could be memory games, puzzles, board games, and playing cards. Activities such as watering plants, art and craft projects, walking, and music therapy also help the patient.
Caregivers establish a routine, as consistency helps the patient feel secure. They manage changes in behavior, learn the triggers that cause these changes, and provide support where needed. Treatment also includes maintaining a healthy lifestyle and managing other medical conditions the patient may have. Personalized care is crucial as part of treatment.
Other professional care services jobs in this field include memory care specialists, dementia caregivers, research technicians and scientists, and speech and language therapists.
Those skilled in handling patients with Alzheimer's work in places such as assisted living facilities, in-home care, nursing homes, and hospices.
Dentistry
Teeth care has numerous fields that you can choose to specialize in. General dentists inspect teeth, clean them, extract them, and refer patients to specialists when deemed necessary. So, instead of opting to be a regular dentist, you can choose to become a specialist in one of the fields mentioned below.
Orthodontists align crooked teeth using devices such as braces and aligners. Pediatric dentists specialize in treating young children and educating parents on the importance of oral hygiene. Prosthodontists replace missing teeth and also perform cosmetic procedures. Periodontists treat gum disease.
A dental team may also include a dental hygienist and a dental technician.
Dental hygienists also examine and clean teeth, take X-rays, and guide patients, both youngsters and adults, on how to clean and care for their teeth. Dental technicians create molds, orthodontic appliances, implants, and other devices required for the patient.
To become a dentist, you must complete an undergrad degree, take a dental admissions test, finish dental school, and obtain your license. If you want to specialize, you must train further in the specific field you're pursuing and obtain a license for it.
The dental field is vast with many specialties and professional care services jobs that you can pursue.
Professional care services jobs also include providing eye care services. These involve conducting eye exams, prescribing lenses or glasses, and diagnosing and treating eye disorders. Cataracts, glaucoma, and dry eye syndrome, among other conditions, fall under this category.
Opticians, optometrists, and ophthalmologists make up the bulk of those who provide eye care. Others include orthoptists and ophthalmic nurses.
Opticians are trained to fit glasses and lenses to correct vision, based on prescriptions given by the ophthalmologist or optometrist. They don't diagnose vision or treat eye conditions. Optometrists diagnose eye conditions and treat them. They carry out eye exams and prescribe glasses or lenses. Ophthalmologists are highly specialized in eye care. They diagnose and treat various eye conditions, perform eye surgery and procedures, and prescribe medication.
To practice optometry, complete a bachelor's degree in a science-related discipline, attend optometry school, and then obtain your license. To become an ophthalmologist, complete a science-related bachelor's degree, attend medical school, complete your residency, and receive your license.
Providing eye care services can be incredibly satisfying because you'll be able to treat and correct vision problems in people of all ages. It's very rewarding to be able to help a child see clearly for the rest of their lives or to rectify an elderly person's failing vision.
Dermatologists
Dermatologists are medical experts that treat skin, hair, and nail disorders. They must obtain a bachelor's degree, complete medical school, complete an internship, and a dermatology residency.
These assess, diagnose, treat, and conduct procedures on people who have skin, nail, or hair issues. Besides dermatologists, other professional care service jobs in this field include a dermatology nurse, a dermatology technician, a medical assistant, a dermatology physician assistant, or a cosmetic dermatologist.
The nurse takes down the patient's history and assists the dermatologist in carrying out examinations or procedures. The technician assists with the technical procedures and handles and maintains the medical equipment. Medical assistants prepare the patient for examination, record their vital signs, and generally assist the dermatologist. Cosmetic dermatologists perform cosmetic procedures such as chemical peels, laser hair removal, filler injections, and skin tightening procedures.
The various roles depend on the size of the clinic. A bigger dermatology clinic or a hospital will provide more roles and opportunities in this field.
Sports physicals, or a preparticipation physical evaluation, are performed to evaluate whether the child, teen, or adult is physically able to play or participate in the sport safely. These physicals are crucial to ensure safety, prevent injuries and optimize performance.
Sports physicals are usually performed by a sports medicine physician, a pediatrician, a physician's assistant, or a nurse practitioner. It includes the completion of a medical history form by the patient, followed by a physical examination of the sportsperson in question.
By detecting issues early on, the medical professional can provide guidance and the appropriate treatment to avoid injuries and prevent future complications. The person is also shown specific exercises to prevent the condition from worsening. If there are significant concerns, they'll not recommend participation in that sport or may recommend further treatment and evaluation.
These healthcare professionals work closely with trainers, coaches, and physical therapists to ensure optimum performance.
The spinal health field offers many career options in the professional care services jobs industry that you can pursue. There are chiropractors, physical therapists, spine surgeons, and even medical researchers who dedicate time and effort to help individuals with spine issues gain a better quality of life.
Chiropractors employ manipulation techniques to treat back and neck problems. Physical therapists assist patients who have had surgery or who have been severely injured in regaining mobility and strength. Spine surgeons perform surgeries and treat spine-related issues. Medical researchers in this field aim to make lives better by coming up with new techniques for procedures, using technology to improve treatment, and carrying out clinical trials.
These professionals work closely to improve patients' lives and reduce pain and discomfort. Spinal health is a delicate area and a career in this field, such as becoming a spinal surgeon, involves many years of dedicated study and hard work.
If you're searching for professional care services jobs, considering a career in the medical field opens up a world of opportunities. From healthcare staffing and providing medical supplies to specialized medical careers like pediatrics, dentistry, neurology, and eye care, there is a wide range of rewarding paths to explore.
If you choose a specialty field, prioritize your academics, maintain high grades, and mentally prepare to work hard. To prevent burnout, you'll also need to practice self-care and maintain a work-life balance. There will be life-long learning as the medical field keeps evolving. By remaining dedicated and resilient, you'll manage to overcome any obstacles that come your way.
Choose a vocation that matches your interests and enthusiasm for making a difference in the lives of others, and you'll find a happy and meaningful career in any of the professional care services jobs you choose.