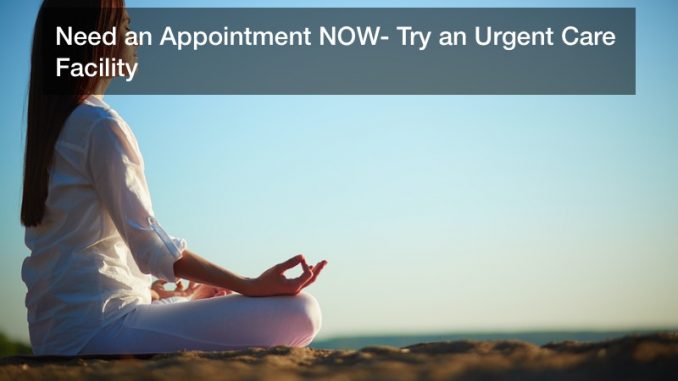 Illnesses such as the common cold can strike at any time, not just during a regular doctor's office hours. When over the counter medicines aren't enough, an urgent care clinic could bridge the gap. Let's explore a few reasons why the Urgent Care Association of America estimates 3 million patients visit an urgent care center each week.
Medical Care Clinics Are a Vital Part of the Medical System.
A visit from the family doctor day or night is a thing of the past. House calls are out of the question, and finding an appointment time that fits conveniently into your work day can be notoriously tricky. Even during so-called flu season it can be difficult to predict when an illness may develop.
Who Would I Be Seen By at an Urgent Care Facility?
There are more than 20,000 practicing physicians in the urgent care field today. Most urgent care facilities require at least one physician to be on the premises at all times. These facilities are usually on the smaller side. Larger or busier facilities often have more physicians available to meet demand.
What Medical Problems Is an Urgent Care Clinic Able to Treat?
It's estimated that Americans contract about 1 billion colds each year. The average person has difficulty ascertaining the severity of an upper respiratory infection. It is better to catch an illness in its earlier stages of development in terms of healing. The difference of even 24 hours can be remarkable in terms of the advancement of symptoms.
Many schools and work place offices require a doctor's note for an absence to be excused, yet it can be difficult at times to get a same day appointment at your primary care physician's office. A clinic can provide the same diagnosis, usually in less time. Many clinics give their average patient turn-around time to be between 45 and 75 minutes from the time of checking in at the front desk.
Are All Urgent Care Facilities Walk-In Ready?
A main feature of the average urgent care facility is its acceptance of walk-in patients. Many working professionals find that they must figure out a way to fit a medical appointment into their work day. The extended hours most clinics offer allows them to accomplish this.
Most illnesses become worrisome at inopportune times, such as after working hours or over the weekend. Many minor injuries are similarly inconvenient. Having a plan in case of an urgent situation is just as important as having an emergency plan.
In the case of an emergency, you know to call 911 or to go to the nearest emergency room. For those times when you need a doctor on your schedule, it can be helpful to know where the nearest urgent care facility is located. Do your future self the favor of choosing a facility now, before you need it. Save the clinic's information to your cell phone so that you will be prepared for next time.