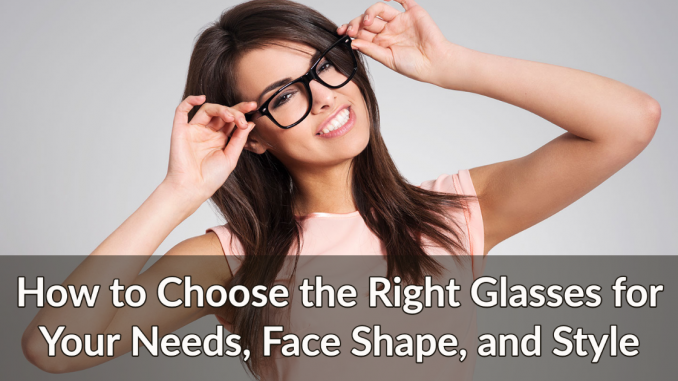 UPDATED 1/13/21
Did you know that 75% of adults in the United States use some form of vision correction such as eyeglasses? For this reason, Americans spent $8.6 billion on purchases of eyeglass frames in 2012 alone. Eyeglasses, after all, are an essential part to Americans being able to study, work, and enjoy life.
When learning how to choose the right glasses, you, of course, have to consider what needs you have for improving your vision. However, you should also be considering what sits well and looks good on your unique face. Further, you should consider your own personal style into your decision to find glasses that are right for you.
Of course, the number one reason why Americans buy eyeglasses is so they can see better. Myopia, nearsightedness, and hyperopia, farsightedness, are the two most common conditions affecting people in need of corrective eyewear, according to the Centers for Disease Control. Whatever your condition, you need to consider your medical needs first when learning how to choose the right glasses. After all, you need to see.
How to Find the Right Glasses for Your Face
Just like any other accessory you use, your eyewear, whether it is prescription glasses or otherwise, needs to fit you. O Magazine suggest each person in the market for a new pair of glasses learns to recognize their particular facial contour when picking out frames. Playing against your contours will let you find glasses that fit your face well and look great.
When you pick out a watch, a ring, or any other piece of jewelry, you pick something that fits your style. The same should hold true when learning how to choose the right glasses. Are you a professional woman working in an office environment? Are you a man who spends his days working as an architect? You need to take your lifestyle and personal style into consideration when choosing your frames to find a look that fits.
According to a 2012 study, men, young Americans, and the affluent are most likely to shop online. However, that should not be interpreted to mean that shopping online for glasses is necessarily expensive. 45% of frame purchasers do not have vision insurance, meaning that price is a very real issue. By shopping online you gain access to a huge variety of glasses at prices that work for everybody. Most online shoppers choose a retailer site versus a specific eyewear producer's page because of greater selection, varied costs, and better deals.
Glasses are essential, and making sure that you have the right glasses for your needs can really make a difference. Designer eyeglasses are a great place to start and can be a great addition to your wardrobe and to your daily outfits. Finding great affordable RX glasses can mean the difference between being able to get glasses when you need them and find the right add on prescriptions eyeglasses.
Glasses should fit your face shape and face size in order to be as comfortable as possible. It is possible to buy stylish eyeglasses online and to find the right site to buy lenses for frames. Eyeglasses are a must and making sure you have a pair that you love and that fits well can mean the difference between glasses that you absolutely love and glasses that you are unhappy with and prefer not to wear. Eyeglasses that are suited to your face shape are more flattering, they can be more comfortable and they are all around better for anyone that has to wear glasses as part of their day-to-day. Glasses are a must and making sure you have the right glasses can make a huge difference.
Just like any other form of clothing or accessory, learning how to find the right glasses can be difficult. Just because glasses are more functional than any other accessory does not mean that they should be any less customized for your personal needs and wants. Keep your medical condition and face shape in mind to find glasses that function well for you. Further, keeping your style in mind while shopping online can net you great choices at great prices. Keep these things in mind while you shop. More on this topic.